Choosing the Right Physiotherapist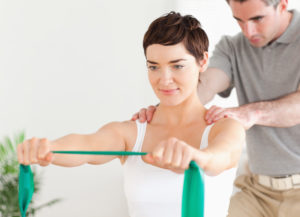 You have choice in your health care and, if you're like most of us, you want to make the best choices. That means finding the best professionals, including physiotherapists. How do you know whether or not a physiotherapist and their clinic is right for you? Here are the key things you should look for in a physiotherapy clinic.
Range of Physiotherapy Services and Experience
Physiotherapists have a wide range of exercises and treatments that they can rely on to help you heal or prevent injury. The more options you have, the more chances you have to find the regimen that's right for you. It's smart to partner with a physiotherapy clinic that offers a broad range of services and an individual physiotherapist who has experience with them.
Meadowlands offers comprehensive services, including:
Acupuncture
Concussion Management
Integrated Dry Needling
Vestibular Rehab
Yoga
Pilates
Massage Therapy
Pelvic Health Techniques
Orthopedic & Sports Injury Techniques
Pediatric Physiotherapy
Manipulative Physiotherapy
Manual Therapy and Manipulation
With all of these strategies we can offer you personalized, holistic care. Our licensed physiotherapists are experienced in many of these areas and can offer you the strategies you need to heal or reduce your chance of injury.
You may only have a single injury or condition you're dealing with right now but you may need additional physiotherapy in the future. It's also ideal to return to the same physiotherapy clinic where you were treated the previous time as you'll already be familiar with the staff, they'll know your history and you can feel confident that you'll receive quality care. If you can, you should choose a clinic that can treat a range of issues, so that no matter what you develop your clinic has the experience to help.
Insurance Coverage and Other Collaboration
If you have health insurance from your employer or a private plan, you'll likely want to take advantage of it when you're receiving physiotherapy. We cooperate with insurance companies to get you the best care available under your coverage. We even provide direct billing which means you don't have to pay out of pocket.
We also work as a team with the other health care professionals involved in your care. We believe in holistic care, which means tackling your condition or injury from every angle, as well as improving your overall health. We welcome working with doctors, nurses, coaches, nutritionists, and many more health professionals to get you the best care. That being said, you don't need a prescription from your doctor to receive physiotherapy at our clinic.
Comfort and Trust
Ultimately, the best physiotherapist for you is the person you feel comfortable with and who you trust with your care. Otherwise you may not get the full benefit from their therapies or be as open with them about how you're doing.
At Meadowlands, we strive to always make you feel comfortable and hope to earn your trust. Our facility is clean and quiet with a healing atmosphere. We are honest and forthcoming with you and want to help you focus on your goals. We frequently re-assess our patients so can rest assured that we're paying attention to how you're doing and using every tool we have to help you go further.
If you've decided that Meadowlands is the right physiotherapy clinic for you, we'd love to hear from you! Please reach out to us today.