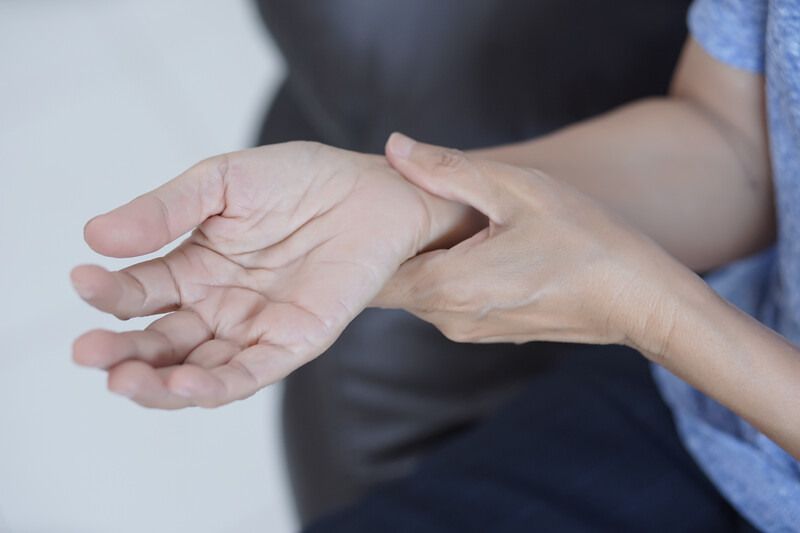 Massage Therapy for Osteoarthritis  
The most common form of arthritis, osteoarthritis, can be managed through massage therapy. It is a condition that degrades the whole joint, and this damage is not reversible. However, there are many treatment options to retain remaining joint function and avoid any additional loss of range of motion. Massage therapy is a strong option to help those with osteoarthritis to manage their pain levels, particularly if they do not want to be overly reliant on prescription pain medication. If you are considering new ways to manage your osteoarthritis, massage therapy may be just what you're looking for.  
What is Osteoarthritis?
Once upon a time, health professionals thought of osteoarthritis as the wearing away of the tissues surrounding a joint due to age. However, we now know that osteoarthritis is not an inevitable part of aging and is not just limited to impacting cartilage in the joint. Instead, it develops in every tissue of the joint: bone, cartilage, ligaments, fat, and synovium. It usually develops in people over 50 who have repeatedly used the joint, or who have suffered injuries to the joint. Younger people more commonly develop osteoarthritis as a result of injuries or genetic issues.  
Osteoarthritis leads to various symptoms, including: 
Stiffness in the joint at the beginning of the day 

 

Limited range of motion in the joint (which may fade with use)

 

Pain and aching after use of the joint

 

Swelling and muscle weakness around the joint 

 

Clicking or popping sound from the joint

 

Joint instability or failure (like when a knee buckles)

 
Those who develop osteoarthritis have many treatments available to them, including over-the-counter pain medications, physical therapy, and electrical stimulation of the nerves. Physicians may also offer more invasive procedures including injecting cortisone or lubrication directly into the joint, or even realigning bones or replacing the joint where possible.  
However, most people want to avoid these more invasive treatments when possible and manage their osteoarthritis in other ways. Massage therapy can be an important element in your treatment plan to reduce your symptoms and minimize any increased damage to your joint.  
How Can Massage Therapy Help?
Physiotherapists can provide targeted massage therapy for those with osteoarthritis, providing the affected joints with pain relief, relaxation, reduced stiffness, and increased mobility. Research into how massage therapy impacts joints with osteoarthritis suggests that over the course of eight weeks with one hour-long massage therapy session per week, the benefits of the treatment persist for at least eight weeks after the massages stop.  
Patients who pursue massage therapy for pain relief can be their own guide as they discover the massage techniques and the length and frequency of massage that appears to work best for them. Physiotherapists can not only provide targeted, relaxing massage therapies, but they can also help you track your pain over time.  
Massage therapy is an important tool to help control pain and avoid further deterioration for those suffering with osteoarthritis. Reach out to Meadowlands Physiotherapy today to discuss whether massage therapy might be the right choice for you.