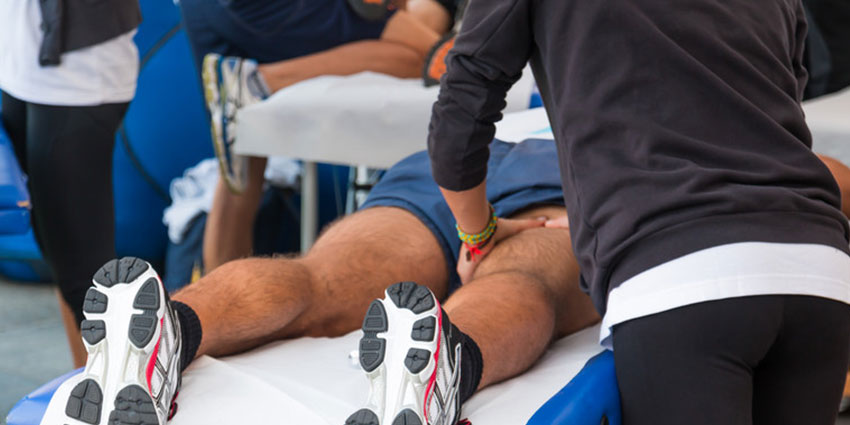 8 ways massage helps athletes improve performance
Massages are not always about rest and relaxation. As sports massage grows in popularity, athletes and trainers are recognizing the benefits of massage for athletes.
Massage is becoming an important component of a well-rounded training regime designed to improve athletic performance. Unlike your stereotypical holiday-resort massage, the aim of sports massage is not to relax, but to focus on and work core muscle groups.
Massage therapy is perfect for athletes of all kinds, from experienced Olympians pushing the limits of the human body, to upcoming youth hockey prospects, to weekend runners. No matter the level you play at, massage can be personalized and customized to your unique requirements and goals. Different sports require the use of different massage techniques which focus on the parts of the body that are most used and abused by athletes in that particular sport.
Pre event massage
Sports massage was once used primarily as a post-workout or post-event technique to aid in recovery. Today it is being used with increasing frequency prior to events in order to loosen athletes physically and reduce mental stress – two areas which are crucial to performing at the highest level – in training or in competition.
Post event massage
After training or a sporting event a massage reduces muscle fatigue, prevents cramping, increases flexibility and improves endurance.
Specific benefits of sports massage include:
Muscle-tendon junctions – sport massage has a hugely positive impact on muscle tendon junctions which helps increase range of motion, and decrease the risk of pulling muscles, injuring tendons and suffering other related injuries. According to a study published in 2010 for the Journal of Strength and Conditioning, hip-flexor range of motion could be increased with massage in as little as 30 seconds.
Increasing blood flow – stroking movements will force fluids through tight muscles, and loosen them. This is vital because tight muscles can restrict blood flow and trap stiffness-causing lactic acid in the muscles. Getting more blood to your muscles means more oxygen, and more oxygen means that you can run faster, jump higher, and outperform the competition.
Stretching – unlike traditional stretching, massage stretches deep muscle tissue in all directions, releasing tensions or pressure that you would otherwise be unable to reach.
Breaking down scar tissue – many athletes have a significant amount of internal scar tissue. This tissue is less elastic than normal muscle and ligament tissue, and can be better stretched through massage.
Pain reduction – no pain, no gain! Almost every athlete has incurred some pain as a result of their sport. Whether you are a cyclist or a hockey player, pain happens. One of the primary causes of pain is tight muscles and cramping, both of which can be alleviated with massage which also releases pain fighting endorphins into your brain.
Stretching the fascia – the fascia is a sort of sheath that covers every muscle in your body. Stretching the fascia makes you more flexible, reduces muscle pain, and even encourages muscle growth (since muscles will be less tightly restricted).
For athletes of all types (and even non-athletes), sports massage is the perfect addition to your existing training regime. It will prepare you physically and mentally to perform at the high level you demand from yourself. Book your sport massage appointment today to improve your performance and protect your body from injury.