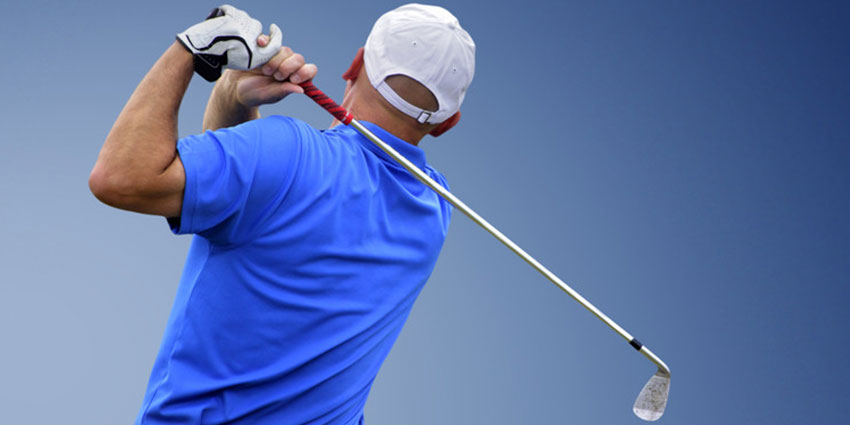 Improve your golf game with physiotherapy
Golf is one of the world's most popular sports, played by young and old around the world. While it may not be the most fast-paced game, it requires complex movements, precision, skill, and consistency.
If you want to up your golf game then picking the right club is important, but picking the right program off the green is just as critical. Seeing a physiotherapist might be exactly what you need to take your game to the next level.

The golf swing
A well executed golf swing is one if the most sublime sights to any fan of the game. The 'whoosh' of the club, and the 'ping' of the ball are one-of-a-kind sounds. But the golf swing is also a complex movement involving coordination, strength, flexibility, and concentration. It requires serious output and flexibility by the pectoralis major (chest), latissimus dorsi (back), abdominals, forearms, and of course your gluteus maximus.
A great swing relies on a huge amount of torsion generated by your core. Which is why strengthening, loosening, and protecting your core is crucial to preserving and perfecting your golf swing. Physiotherapists know how to safely and effectively target the muscles that propel your golf game.

Stay consistent
If you are suffering from any tightness, pain, or injury then visiting a physiotherapist is a no brainer. A registered physiotherapist will develop a personalized treatment program for you, which could include a combination of massage, exercise and even acupuncture to help you stay healthy and consistent on and off the course. You'll be able to keep your head in the game without worrying about reinjuring yourself.

Preventative Physiotherapy
There is no reason to wait until something goes wrong before getting physiotherapy. Rather than enduring back pain, sore muscles, or chronic pain, begin physiotherapy before you injure yourself.
It may seem counter intuitive at first, but realize that pre-emptive physiotherapy is becoming more and more common. You take your car in for regular maintenance, so why not afford your body the same protection with preventative care? Build the flexibility, strength and stamina that your golf game needs with the help of your physiotherapist.

Physiotherapists versus personal trainers
There are many excellent, highly qualified personal trainers in Ontario but unlike physiotherapists, there is no centralized body regulating personal trainers. So while many are highly qualified, some are underqualified – sometimes dangerously so. Visiting a personal trainer who doesn't hold the right credentials means you are putting your health, physical wellbeing, and your golf swing into the hands of an amateur.
Unlike personal trainers, physiotherapists are highly educated, specially trained, regulated and licenced. They understand how your body works, and how to keep it working at the highest level. Physiotherapists will guide you and motivate you through recovery, or through a comprehensive preventative physiotherapy plan designed to meet your goals.

Physio for all ages (but some more than others)
​Physio can help golfers of all ages improve their game. This is especially true when it comes to older golfers, looking to stay in shape. For many avid golfers, retirement means being able to enjoy the greens on a daily basis – but golfing more regularly can cause physical strain. Older golfers are at greater risk of injury, which could mean you miss part or all of the season. Talk to your physiotherapist about how you can improve your golf game and condition your body so that you can stay on the course longer.