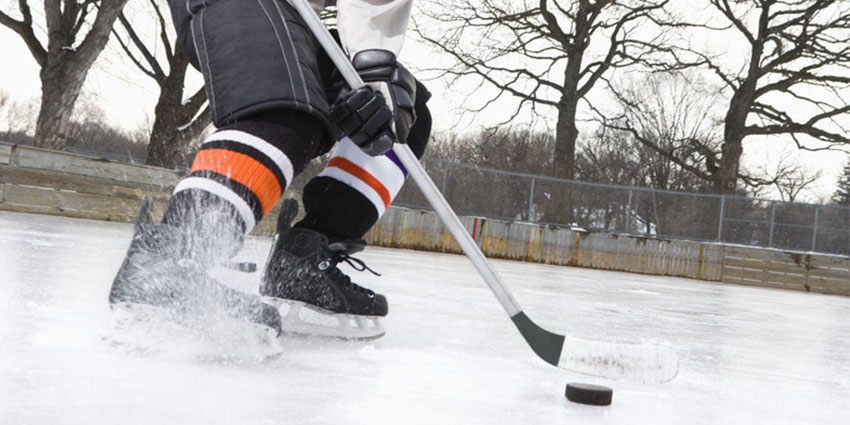 Staying on the Ice – How to Prevent Hockey Injuries (And What to do If You Are Injured)
Canada's sport provides physical and mental challenge like no other. But, like all sports, hockey makes specific areas of the body more vulnerable to injury than others. As you play, you need to make sure you're doing everything you can to protect yourself from injury. And, if you suffer even a minor injury, you need to make sure you're treating it properly, to ensure it heals properly and doesn't re-occur.
How to avoid hockey injuries
Properly fitting equipment is the first step to avoiding injury. All equipment must be CSA approved. Helmets are your most important, though gloves are sometimes overlooked, the hand is very vulnerable in hockey and should get special attention.
Next, taking the time to warm-up is crucial to preventing injury. When you're late or otherwise in a rush, you're less likely to spend the time getting limber that you should.
Even if you always take the time to warm-up and stretch, you need to make sure you're warming up effectively and targeting the right areas. We can work with you to develop the correct stretches you need to properly warm up before your practice or game.
Another key to avoiding injury is balancing hockey with other sports. This will allow you to move in different ways and develop muscles that play a secondary role in hockey– but which are susceptible to injury. Our Pilates class is a great way to focus on other muscles, especially in the core, which hockey players may neglect.
Dry-land strength training is another great option for ensuring you're not just strong, but have balanced strength on both sides of your body. Depending on which area you're most likely to injure, we can suggest various preventative exercises.
To avoid pulls and strains, which are common in hockey, especially those of the hip and groin, massage therapy is very helpful. It can improve your joint mobility and increase your bodily awareness of your vulnerable areas.
What to do after injury
After you're injured do not jump right back on the ice. You should get medical attention quickly, rest the injury, and then seek rehabilitation to re-strengthen the injured area and the areas which support it. These steps are all crucial to preventing the injury from occurring again.
Especially in the early stages post-injury, massage therapy can help you find relief from the pain of your injury while improving circulation and immune function in the pained area.
Once you're ready to start building strength in the injured area you should start dry-land strength training. While players are excited to get back on the ice, it's important to take this stage slowly to be sure you fully recover.
A common hockey injury which needs special treatment is lower back strain. It tends to impact experienced players who have developed posture issues or who have failed to develop strength in their back. We can help you to identify and correct posture issues, especially in our Stott Pilates® classes, which are aimed to decrease back pain. These classes also provide cardiovascular exercise to help you regain endurance.
Another excellent option for injuries is our manipulative physiotherapy, a unique hands-on approach that can speed up your recovery. We are one of the only physiotherapy clinics to offer this approach in the Greater Hamilton area.
If you have a fresh or recurring injury, reach out to us at Meadowlands as soon as possible. Our team of professionals will work on a holistic approach to ensuring your recovery is complete, and that you're preventing further injuries too.